Tutor Resources
Videos:
Tutoring Video Clips produced by Literacy Volunteers of Charlottesville/ Albemarle
(NEW TUTORS, CLICK THIS ONE)
Includes our own tutors working on a variety of topics.
Tutoring Video Clips from Media Library of Teaching Resources
Includes clips of tutors demonstrating various methods such as the Language Experience Approach, role plays, learning vocabulary and building reading and writing skills with ESL or Basic Literacy students.
---
English Proficiency Standards:
Presentation
New Reporting Tool
Standards Spreadsheet - Excel
Standards Spreadsheet - PDF
Monthly Report Worksheet - example created and shared by a tutor to help keep track of progress on standards for their Level 3 student.
---
Lesson Plans:
Lesson Plan Template
Real-World Lesson Plan Grid
---
Reminders about Ventures textbooks:

As the tutor, you should keep the "Student's Book" to work in together and to plan from. The student should keep the "Workbook" for homework and review.
Ventures textbooks include extensive online resources, available at www.cambridge.org/ventures/resources. You will need to create a teacher's account to access the materials. To save yourself the headache, you can log in using our teacher account. Contact Heather for the login information.
The "Ventures Arcade" is an online resource that students and tutors can use to supplement activities found in their textbook. It is a platform that provides games, activities, a dictionary, and audio files.
How to teach remotely with Ventures
---
Tutor Tips:
Learning Styles
Learning Styles - Behavioral characteristics and tutoring tips for three different learning styles: auditory, visual, and tactile/kinesthetic.
Teaching to the 8 Learning Styles - Verbal, Bodily, Logical, Visual, Interpersonal, Intrapersonal, Musical, and Naturalist.
Guidelines Based on Learner Levels
English as a Second Language Learners
Basic Literacy Learners
Speaking and Listening Practice for Beginners
Speaking & Listening Test Information
Students should be able to answer the questions at the level they last tested into, all those before it and the next level up that they will hopefully test into. Give them enough practice so that they answer with good grammar and pronunciation.
---
Online Resources:
English for You
English For You is a three-level, video-based, English learning set. It has been prepared and presented by English teachers in a real class ambiance.
USA Learns App for smartphones or tablets: Great resource for students to use for independent study. Features videos, listening and speaking practice.
Activities for ESL Students
This website has useful information for all levels. It includes quizzes on grammar and vocabulary, listening and pronunciation practice and VOA audio podcasts. It also has crossword puzzles and over 40 quizzes in bilingual languages.
ESL Games for Adults
This website features games and other activities, including conversation cards, to help adults learn English as a Second Language.
Conversation Questions for ESL
This website provides different questions to stimulate conversation for ESL learners.
English for Everyone
This website provides worksheets related to almost any question you may have about English. The pictures and readings for the lower level learners are especially good. Other topics include U.S. citizenship, spelling, word searches, and computer fundamentals. Check it out!
Interesting Things for ESL Students
This website is full of exercises in grammar, pronunciation, listening, spelling and vocabulary development for different levels. One heading lists "Easy Things for Beginners." Other activities and exercises are not specified by levels but are generally intermediate.
Sounds of English
Good for pronunciation practice. Tips for teachers.
Easy Reading
Short stories for ESL learners with activities for each one.
English Grammar
Help with rules of grammar.
5 Minute English
Designed to give short and easy explanations and exercises for English as a Second Language Learners.
Speak English Clearly! - The Imitation Technique
Practicing English with the Imitation Technique will help reduce an accent and pronunciation problems quickly. It will also make listening to native speakers easier. Several lessons are available.
Find It Virginia for English Language Learners
For tutors and/or students with access to computers and computer literacy skills.
ESL-Bits
Listening, Reading, Audiobooks, Short Stories, and Songs for intermediate-level students. Students can listen and read along with the text.
Newsela | Nonfiction Literacy and Current Events
Newsela provides teachers, parents, and students with over 1,000 current event articles scaled at five different reading comprehension levels. You must create an account to access most of the articles. You can also pay for an account that will allow you access to quizzes and assessments on reading comprehension.
---
Health Literacy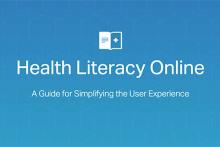 According to the National Assessment of Adult Literacy, only 12 percent of adults have proficient health literacy. Low literacy is linked to poor health outcomes and higher rates of hospitalization. ProLiteracy has recommended MedlinePlus as a resource to provide health information to students. The site is in both English and Spanish and features hundreds of health topics with easy-to-read materials.
Health Vocabulary PDF Handout
Virginia Adult ESOL Health Literacy Toolkit - Created by a hospital social worker and ESOL educator, this toolkit offers explanations, tips, materials, and links to help ESOL teachers and programs better understand and address the health literacy challenges faced by adult English language learners in U.S. health care.
---
LVCA Produced Pronunciation Handouts:
Correcting Pronunciation Errors
Four Guidelines for Teaching Pronunciation
Vowel Placement
Vowel Practice
Characteristic Difficulties with English for Speakers of Spanish
Minimal Pairs for Spanish Speakers
Pronunciation Guide - Bantu
Pronunciation Guide - Burmese
Pronunciation Guide - Central & South Asia
Pronunciation Guide – South East Asia (Chinese, Korean, Vietnamese, Japanese)
---
Handouts from our Workshops:
Helping Students Understand Election Season (September 2020)
Handout of Online Resources
Ventures Online Resources for Tutors (August 2020)
Ventures Resources PowerPoint
Ventures Resources Handout
Citizenship Program Updates (July 2020)
All information current as of 7/22/2020
Workshop PowerPoint
Teaching with Video (June 2020)
Teaching with Video Handout
Video Platforms Overview PowerPoint
Teaching with Zoom PowerPoint
Teaching with Meet PowerPoint
Public Charge Rules (June 2020)
Public Charge Handout (English) from the Immigrant Legal Resource Center
Public Charge Handout (Spanish) from the Immigrant Legal Resource Center
Public Charge Screening
Public Charge PowerPoint Presentation
Census 2020 Handouts
Census101_Graphics
Census Partnership Immigrant/Foreign-Born One-Pager: The Census Counts Everyone
The 2020 Census: Why It Matters PowerPoint
Teaching Vocabulary: Tips, Techniques, and Strategies (November 2019)
Teaching Vocabulary PowerPoint
Vocabulary Handout
Vocabulary Activities
Experience Stories - A Strategy for Reading and Writing Practice for Low-Level Learners (May 2019)
Experience Stories PowerPoint
Extension Ideas Using Student Experience Stories Handout
Cultural Adjustment Workshop (February 2019)
Cultural Adjustment PowerPoint
U Curve Handout
Websites Mentioned
Cultural Humility (December 2018)
Cultural Humility & Ways of Engaging - presentation by Ingrid Ramos and Joanna Ajex of the Women's Initiative
Engaging Adult Learners Through Technology (October 2018)
Technology PowerPoint
Technology Handout
Maintaining Student Motivation (September 2018)
Motivation PowerPoint
Language Goals Handout
Real-World Implementation Handout
SMART Goals Handout
Correcting Pronunciation - South East Asian Edition (June 2018)
Tips for Encouraging Students to Use and Practice English Outside of Tutoring Sessions (May 2018)
Lesson Planning for Intermediate & Advanced Students (April 2018)
Meeting the Needs of Intermediate and Advanced English Language Learners PowerPoint
Level 4 Standards Handout
Scaffolding Techniques for Low-Level Learners (March 2018)
Scaffolding PowerPoint
Cluster Word Web Handout
Cognates Handout
Compare/Contrast Handout
Herringbone Organizer Handout
KWL Chart Handout
Sentence Stems Handout
Spider Map Handout
Venn Diagram Handout
Trauma & Your English Learning Student (February 2018)
Workshop by Cherry Stewart, EL Counselor, Charlottesville City Schools K-12 & Volunteer Coordinator, Instructor at TJACE@PVCC
Informal Assessments Workshop (January 2018)
Informal Assessments PowerPoint
Example-Non-Example Handout
3-2-1 Handout
One Sentence Summaries Handout
Learning Log (Excel)
Word Wall (Excel)
Low-Level Learners Workshop (April 2017)
Working with Low-Level Learners PowerPoint
Working with Low-Level Learners Handout
100 Common American Words
---
2019 Tutor Retreat Presentation & Handouts:
Beyond the Workbook Presentation - Paige Zelikow, LVCA Staff
US Immigration Presentation - Alyson Ball, Author, presenter, and IRC Volunteer
The Path to US Citizenship Presentation - Paige Zelikow, LVCA Staff
Naturalization Workshop (handout)
Culturally Responsive Communicative Teaching - Menna Youssef, LVCA Tutor
Albemarle County Schools CRT Resources
Introduction to Culturally Relevant Pedagogy - YouTube
English Proficiency Standards - Steven Reid, LVCA Staff
---
2018 Tutor Retreat Presentations & Handouts:
Refugee 101 - Harriet Kuhr, Executive Director of The International Rescue Committee
Pronunciation from Z to A - Holly Dilatush, LVCA Volunteer and Leader of Tutors' Corner
Collaborative Lesson Planning - Holly Dilatush, LVCA Volunteer and Leader of Tutors' Corner
Grammar for Low-Level Students - Steven Reid, LVCA Staff
Grammar for High-Level Students - Steven Reid, LVCA Staff
The Path to Citizenship - Paige Zelikow, LVCA Staff
Naturalization Process (handout)
Beyond the Workbook - Paige Zelikow, LVCA Staff
Alternative Homework Tips (handout)
Registering for ProLitearcy's Education Network (handout)
Registering for a VALRC account (handout)
Literacy Resources (handout)
---
2017 Tutor Retreat Presentations & Handouts:
Engaging Adult Learners Through Technology - Heather Tebbenhoff, LVCA Staff
Better Health Through Better Health Literacy - Lydia, Witman, UVA Medical Center
Pronunciation Presentation - Paige Zelikow, LVCA Staff
Strategies for Encouraging Students to Speak Outside Tutoring
Maintaining Student Motivation Workshop Handout
Our Language Goals Handout
Six Drivers of Persistence
SMART Goals Handout
Motivation Workshop Notes - These are the ideas generated by the participants on how to promote and incorporate the six drivers of persistence into tutoring sessions.
---