Upcoming Workshops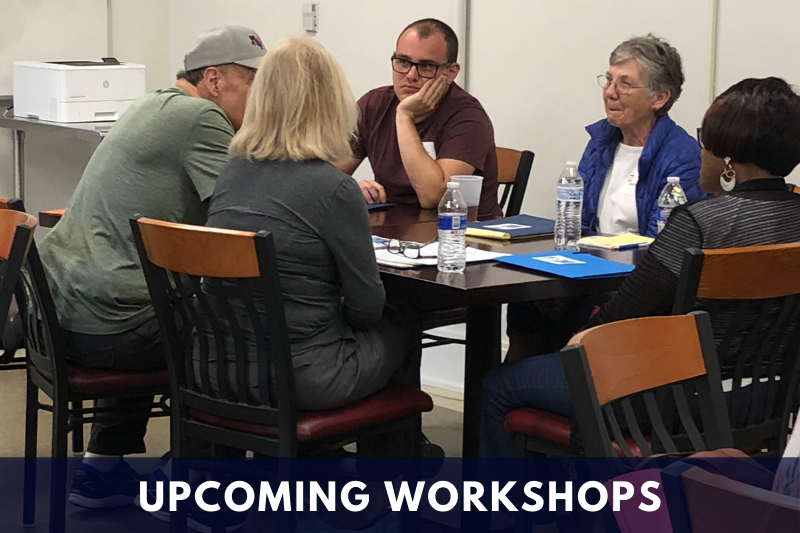 We offer continued training and professional development opportunities for our volunteer tutors long after completing the initial training. If there is a particular topic you'd like to see us offer a workshop on, please email Steven.
Workshops are either on Zoom or in person, please see the description for specifics. Workshops are designed for current LVCA tutors.
A note for volunteers from other organizations/agencies:
Thank you for your interest. We know many organizations are struggling, so we have no set fee for participation. Instead, we invite you to make a donation in whatever amount seems appropriate for you. We have invested staff time and resources in creating and conducting these training sessions, so whatever you can contribute will help cover our costs.
---
Scaffolding Techniques for Low-Level Students
When: Wednesday, August 10
Time: 3:00–4:30 p.m.
Format: Zoom
Facilitator: Steven

When working with a lower-level English language learner, presenting new material in various ways is often helpful. This will help meet students where they are academically and then provide a framework that will set them up for success. Scaffolding is a set of teaching strategies that will give these students the tools they need to become more successful in acquiring their new skills.
In this workshop, you will learn techniques for helping lower-level students increase comprehension and understanding of the lesson material. The last half hour will be open for general discussion and questions about your work with low-level students. This will be a great opportunity to share and learn from other tutors.

Definition from EdGlossary.org: In education, scaffolding refers to a variety of instructional techniques used to move students progressively toward stronger understanding and, ultimately, greater independence in the learning process. The term itself offers the relevant descriptive metaphor: teachers provide successive levels of temporary support that help students reach higher levels of comprehension and skill acquisition that they would not be able to achieve without assistance. Like physical scaffolding, the supportive strategies are incrementally removed when they are no longer needed, and the teacher gradually shifts more responsibility over the learning process to the student.
---
Spotlight Series: Level-Specific Resources and Strategies
When: Wednesday, September 14
Time: 12:00–1:00 p.m.
Format: Zoom
Facilitators: Steven, Catherine, & Heather
Our new Spotlight Series will put a spotlight on our wonderful tutors. While the format and topic of each Spotlight Series session will vary, every session will provide an opportunity for tutors to share strategies, resources, and ideas with each other.
We will kick off our Spotlight Series in September, focusing on the most requested topic from our recent tutor survey: level-specific resources and strategies. We'll gather together on Zoom and quickly split up into breakout rooms by student level. Each room will be facilitated by a tutor who has experience working with students at that level, and all participants will be welcome to share ideas and/or ask questions of the group.
---