Students
Need Help Reading, Writing, or Speaking English?
We offer:
Free reading and writing lessons
Free English tutoring (ESOL)
One-to-one tutoring
Conversation groups
Self-paced computer learning
Citizenship classes
Student Requirements:
Be age 18 or older
Commit to 12 months of studying
Complete at least 6 weeks of computer learning before being matched with a tutor
Meet with a tutor for 8 hours per month
Must meet with a tutor in a public space - tutors will not go to your home
If you want to improve your reading, writing, or English-speaking skills, or know someone who does, please contact our office at 434-977-3838.
We open appointments on the last Monday of each month. Prospective students must call or come to our office to schedule an intake appointment. During this appointment, learners will take a test to determine their current skill level and will fill out basic paperwork. From there, a schedule for computer learning and conversation class will be determined. The student must work on the computer for 6-8 weeks until they will be matched with a volunteer tutor.
---
Student Stories
Noh
"From No Shoes to Driving a Car"
featured in the 2017 edition of The Joy of Writing
What is happening now is that I am learning a lot. Before I came to the U.S., I was born in a bamboo hut in a jungle in Burma. We grew our own rice and corn. We relied a lot on the buffalo to help work the farm. Nobody taught me about how to learn and to have a better life. I was 19 years old. We lived in the jungle where there were no cities, electricity, bicycles, shoes or cars. We never saw these things. We never saw anything in the dark because we had no lights.
There was a problem. The military said we could not stay in the jungle. They told us we had to move to the city. But some people didn't want to. So, we ran away to Thailand. We became refugees. I became a man without a country.
For the first time in my life I found out what a school was. In the refugee camp I started taking adult learning classes once a week. I was learning Burmese, English and Karenni for the first time. Finally, I was learning how to read and write. Whenever I saw someone reading or writing something in camp I asked them to teach me what they knew. The most important thing to me at the refugee camp was getting educated and finding a better life for myself and my growing family.
I lived in the crowded camp for ten long years. I heard someone talking about going to the U.S. Many of us applied to go there and in about one year I settled in Charlottesville, VA, with my Burmese wife and two young sons.
After I was here for 6 months I started my first job and have it up until now. Two more children joined our family, another son and a daughter. They are Americans. My three sons go to school. One in middle school, one in elementary school and one in preschool. I hope the children will have a better future as they are learning at a much younger age than I did.
So how is life different from Burma? For 30 years I walked everywhere. Everyday I saw big, high mountains. I went to the river to bathe. We had no soap. Instead we used the seed from a tree to rub ourselves. In Charlottesville the mountains are much shorter and taking a shower is easy because the water is in my house. Also different is the cooking. Before we cooked with a fire and here it is easier to use an electric stove. We don't grow our own food, like in Burma, but we go to the local park, we go to school, we drive an old car, listen to music and have two cell phones.
Now I learn English one night a week at Literacy Volunteers. My children started school when they were very young. Then they can get better jobs or even a job as a manager. It seems like the boss does little work and gets much money.
I am no longer a man without a country. I became an official citizen of the United States in 2016 and am proud to call the U.S. our home. I also registered to vote.
Life is much easier for us in Virginia.
Most importantly, I want to thank the kind volunteers who patiently taught me English and how to read and write. Also how to talk to the people in the stores, at work, and with my new friends.
---
Maryam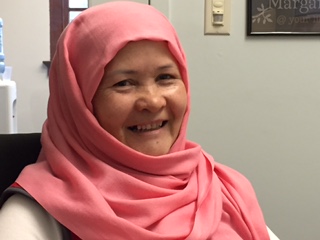 "Maryam's Story" in the 2015 edition of The Joy of Writing.
I was born in Afghanistan. My parents had a very big farm there. They grew wheat and potatoes.
Now, after living in Iran and Turkey, two of my daughters and I have come to the U.S. where I am learning English. I like the people in Charlottesville. They are soft (not loud) and nice.
The IRC is helping me to have a vegetable garden where I can grow tomatoes, peppers, beans, beets, carrots, and more to sell. Then I can put down roots in Charlottesville…real roots!
---
You can purchase a copy of The Joy of Writing, our collection of student essays, from Amazon.