Need Help Reading, Writing, or Speaking English?
If you want to improve your reading, writing, or English-speaking skills, or know someone who does, please contact our office at 434-977-3838.
We offer free one-on-one tutoring for basic literacy, conversational partnering and group classes for non-native English speakers as tutors become available.
Student Stories
Jose Santos Fernandez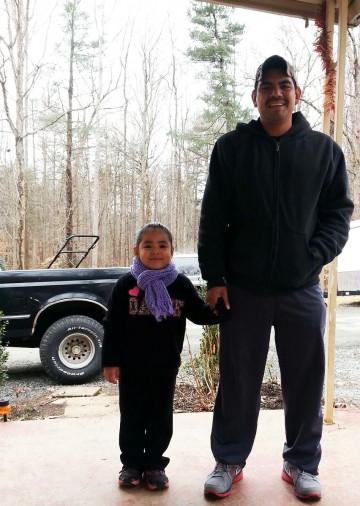 "Advice to My Daughter" by Jose Santos Fernandez, featured in the 2015 Joy of Writing
I know that it is hard for parents when kids become teenagers because they don't listen, but I will try to do my best with my daughter. It's going to be hard to talk with her at that age. I will teach her to respect me when the moment comes; and I will be father and friend at the same time because sometimes you trust more in a friend than in a parent. When something is happening to you, you don't talk to your parents because you're afraid what they are going to think about it.
I know that one day she will leave us to have her own life and make her own decisions. I will talk to her about how she can take care of herself and try to get her the answer for every question she might ask. That way if she finds the answers with me, she doesn't have to go out looking for them. I might not have all the answers, but if I don't have the answers, we will find them together.
In 1991, when I was taking care of the cows and the goats on my family's farm in Bhutan, I was arrested and sent to jail. I was in jail for six months. The president of Bhutan wanted to send all Nepalis back to Nepal. At 7:00 one morning I got on a truck in Damphu Chirang, Bhutan for India. At the border, there were twenty trucks in line on the road. Bangladeshi truck drivers were fighting with the passengers coming from India.
---
Maryam Yousefi
Maryam's story in the 2015 edition of The Joy of Writing.
I was born in Afghanistan. My parents had a very big farm there. They grew wheat and potatoes.
Now, after living in Iran and Turkey, two of my daughters and I have come to the U.S. where I am learning English. I like the people in Charlottesville. They are soft (not loud) and nice.
The IRC is helping me to have a vegetable garden where I can grow tomatoes, peppers, beans, beets, carrots, and more to sell. Then I can put down roots in Charlottesville…real roots!
Pick up a copy of THE JOY OF WRITING, our collection of student essays, at the Literacy Volunteers office.